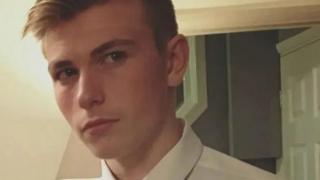 The mother of a teenage boy who was stabbed to death by a love rival and his parents has called the sentences his killers received "a joke".
Jay Sewell, 18, was attacked by a group led by Daniel Grogan, who thought he was dating his ex-girlfriend.
Mr Sewell's mother Sharon Louch said she and her family were still "suffering" and felt they had been sidelined during the court process.
Grogan, 20, was found guilty of murder and jailed for a minimum of 21 years.
The Old Bailey heard he had deliberately engineered a stand-off with Mr Sewell and his ex-girlfriend Gemma Hodder in December 2018.
Mr Sewell and his friends were set upon in Lee, south-east London, by Grogan's parents and friends who were armed with knives, hammers, a 4ft (1.2m) fireman's axe and wooden sticks.
Ms Louch said her son had only known Ms Hodder for four days but in that time had received numerous threats.
"He decided enough was enough and he needed to go and sort it out. I wish he had come to me but instead he went to sort it out himself," she said.
She described her son as a "very popular, very loyal" teenager who "meant everything to me".
"I lie awake at night and that's all I think about…just his last minutes because I never got to say goodbye," Ms Louch said.
On Tuesday, Grogan and a group of his friends and family were given sentences ranging from life imprisonment to a nine-month rehabilitation order.
Ms Louch said it was "completely and utterly wrong" that some of those involved "could be out on the street" soon.
She said: "I had to walk out, I couldn't listen to it – I did feel very angry about it because we haven't been able to say a lot at all.
"It was all about them. The court process is very much in their favour. I just don't think there's any deterrent to stop people from doing this or reoffending."
The prime minister has previously called for tougher sentences and an end to automatic release for all killers.
---
Those jailed over fatal stabbing
Grogan's father Robert, 58, who had armed himself with an axe, was jailed for 14-and-a-half years for manslaughter, six years for wounding with intent and three-and-a-half years for violent disorder
Grogan's mother Ann, 55, was jailed for seven-and-a-half years for manslaughter and three-and-a-half years for violent disorder, to be served concurrently
Friend and neighbour Charlie Dudley, 26, of Grove Park, was jailed for 16 years for manslaughter, six-and-a-half years for wounding with intent and three-and-a-half years for violent disorder, to be served concurrently
Cousin Liam Hickey, 19, of Eltham, was sentenced to three years in a Young Offenders Institution for wounding with intent and two years for violent disorder, to be served concurrently
Sister Francesca Grogan, 30, of Sibthorpe Road, was jailed for 12 months for violent disorder
Jamie Bennett, 32, of Sibthorpe Road, was sentenced to 20 months in prison for violent disorder
A 17-year-old boy, who cannot be named, was handed a nine-month rehabilitation order and a supervision order for violent disorder.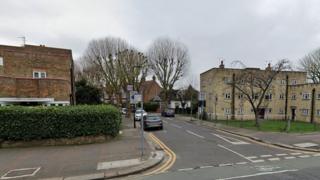 A man in his 20s has died after being stabbed in a fight near Ealing Common, west London.
Officers from the Metropolitan Police were called to reports of a fight close shortly after 18:00 BST and discovered the man suffering from stab injuries.
Members of the London Ambulance Service and the air ambulance also attended, however the man was pronounced dead at the scene at 18:48.
His next of kin have been informed and a post-mortem will be held.
A man was arrested on suspicion of affray and was taken to a west London police station where he remains in custody.
Inquiries are ongoing.
Anyone with information is asked to call officers on 101.
A section 60 order is now in place for the Hillingdon and Ealing areas until 07:00 on Wednesday, allowing the police greater search powers for a limited period.
This order comes after a murder investigation was launched when a man was stabbed to death on a train at Hillingdon station shortly before 16:00 on Tuesday.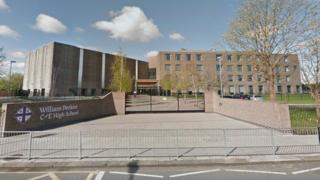 A boy who flicked a piece of cheese at a teenager with a dairy allergy who later died did not mean to harm him, an inquest has heard.
Karanbir Cheema, 13, who also had other allergies and asthma, suffered from a severe reaction at his school in west London on 28 June 2017.
He was taken to hospital in a life-threatening condition and died two weeks later.
An inquest into Karanbir's death heard a piece of cheese landed on his neck.
A boy, who cannot be named for legal reasons, told Poplar Coroner's Court he did not know why he threw the cheese, describing it as "immature behaviour."
The court heard he was given it by a friend during break time at William Perkin Church of England High School in Ealing.
'Extremely diligent'
He then threw the piece of cheese at Karanbir – but said he was not specifically his target.
"After that he just said 'I am allergic to cheese'," the boy said.
"I apologised and went to class after."
The boy admitted he did not know how serious allergies could be and thought they could simply cause a rash or fever.
"I didn't mean to hurt him and obviously I feel bad now", the boy said.
Epipen 'expired'
In a statement, Karanbir's mother Rina said her son was "extremely diligent" at managing his allergies.
Informed that cheese had been put down his neck, she said a consultant at the hospital questioned this because contact through the skin would not cause such a bad reaction.
Giving evidence, Rajvnder Saini who worked at the school, said an Epipen kept in the school for Karanbir had expired in July 2016.
An email was sent to the boy's mother in February 2017 to inform her, the court heard.
The inquest continues.
commercial pest control services chelsea